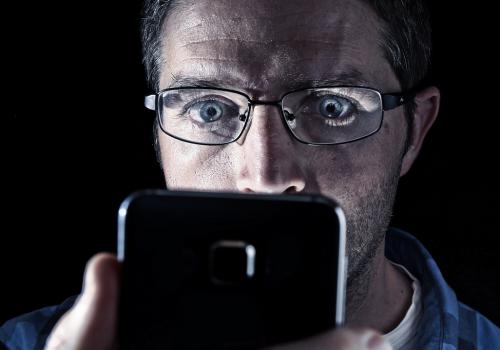 The eyes are sensitive to a narrow band of light frequencies called the visible light spectrum.  Blue light has the shortest wavelength of the visible light spectrum, and blue rays with the shortest wavelengths have the most energy.  Blue light is generally defined as visible light ranging from 380 to 500 nanometers (nm).  Since the entire visible spectrum ranges from 380nm to 700nm, blue light makes up approximately one-third of all visible light.  Our main source of blue light is sunlight, however the number of indoor man-made sources of blue light is on the rise.  This includes fluorescent lighting, LED lighting, and display screens such as smart phones, tablets, computers, and flat screen TVs.  Although they appear white, LEDs have a peak emission in the blue light range (400-490nm range). With changes to the way we light our homes and offices, as well as the increased use of direct illumination for reading, exposure to blue light is increasing.
Exposure to Blue Light
Despite the fact that the eye is good at blocking UV rays from reaching the retina, the eye is not very good at blocking blue light.  Virtually all visible blue light passes through the cornea and lens and reaches the retina.  The effect of this exposure is cumulative, and the total number of exposure hours is what matters.  A child's crystalline lens is more transparent to short wavelengths – such as blue light – than that of an adult, making children more sensitive to blue light effects than adults.
Exposure to blue light may also contribute to the following:
The human crystalline lens absorbs UV light throughout life and slowly yellows with time.  By the age of 20, it has yellowed enough to filter some but not all HEV blue light.  However, it is now believed that this absorption throughout life is a contributing factor to aging and cataract formation, and that protection from both blue light and UV exposure can delay the onset of aging of both the lens and the retina.
Too much exposure to blue light can damage light sensitive cells in the retina.  This causes changes that resemble those of macular degeneration, which can lead to permanent vision loss. Studies have shown that it is the cumulative effect of this exposure that causes the damage, and that mainly affects the cones (the photo sensitive cells responsible for central vision and colour vision) and the retinal pigment epithelium (cells responsible for nourishing the retinal cells).  Lutein, a blue blocking pigment, is found in healthy human retinas and has been shown to protect against the blue light photo damage.  Time of day of the exposure may also be an important factor, and research in this area is ongoing.
Computer screens and other digital devices emit significant amounts of blue light and people are spending more and more hours looking at them.  The high energy blue light waves scatter more in the eye and is not as easily focused.  This scatter creates "visual noise" that reduces contrast and can contribute to digital eye strain. .....Read more
RetinaGuard Anti Blue Light Tempered Glass Screen Protectors :